NCRC's unique, collaborative environment has positioned Cardiovascular Research Center (CVRC) researchers for success. In the past year, CVRC investigators have been successful in securing federal funding in a very competitive environment. In addition, collaboration with industry has led to a multi-million dollar grant to support a new imaging suite. Fostering collaboration has been key to the CVRC remaining at the cutting edge of research and innovation.
The Office of Technology Transfer and the Venture Accelerator have also increased CVRC's entrepreneurship endeavors, leading to new inventions and patents. Support for results-based innovation is also provided by a pre-doctoral training program focused on cardiovascular research and entrepreneurship. In addition, the Flux High Performance Computing facility provides close, friendly support of CVRC's large scale computer modeling.
The Michigan Translational Research and Commercialization for Life Sciences Program support has enabled the launching of a new company, CARTOX, LLC, developer of an innovative human stem cell-derived cardiac monolayer plating technology that significantly advances preclinical drug cardiotoxicity testing. The Michigan Biology of Cardiovascular Aging Program greatly increases the potential of CVRC to generate knowledge about the mechanisms of cardiovascular diseases and arrhythmias related to aging, including atherosclerosis, and atrial fibrillation.
Tools for the Job
The CVRC maintains unique experimental resources to improve understanding and therapy for cardiovascular diseases, including:
optical mapping, patch clamping, and molecular and cell biology suites

confocal microscopy

a state-of-the-art interventional and electrophysiology suite

an induced pluripotent stem cell laboratory
Cardiovascular Core Services at CVRC also offers the following methods of cardiovascular system measurement:
ultrasound imaging, including assessment of cardiac performance, and vascular anatomy and function, of both small and large animal models
microsurgery, including aortic constriction (TAC or AAB), myocardial ischemia (LAD occlusion), and microcatheter-based approaches for measuring function and drug delivery

state-of-the-art phenotyping services for animal models ranging from zebrafish all the way to large animals, with a primary focus on mouse and rodent models of disease

telemetry with implantable probes, for measuring EKG, blood pressure, blood glucose, temperature and activity in conscious, freely-moving animals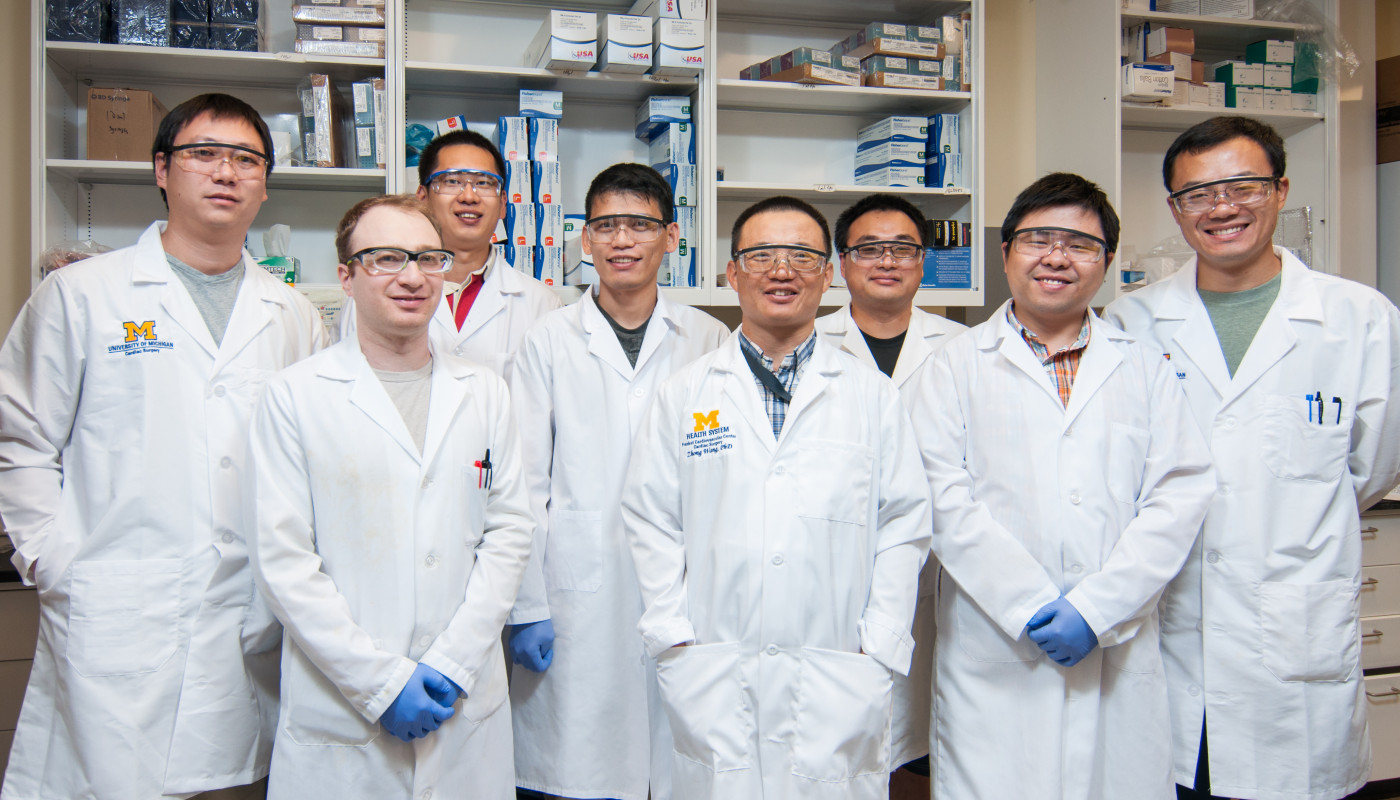 CVRC represents the vanguard of medical research. Its teams at NCRC are at the forefront of:
using multi-scale modeling and advanced medical imaging to understand the progression of pulmonary hypertension, and to obtain new markers for improved patient stratification

the development of a human heart in a dish for cardiotoxicity testing, using human stem cell-derived cardiac muscle cells

Michigan Biology of Cardiovascular Aging (MBoCA): experimental studies in mice to understand how aging impacts vascular disease

a state of the art blood flow simulation, modeling the cardiovascular system

pioneering novel large animal models for a wide range of human diseases including cardiovascular diseases, infectious diseases, genetic diseases and regenerative medicine

the Virtual Physiological Rat Project, an NIH-supported National Center for Systems Biology initiative to simulate, analyze, and predict physiological function in healthy and diseased subjects

the launch of an iPSC Regeneration Core

piloting computation systems models in improving and refining diagnosis for cardiovascular disease

the creation of an Animal Model Phenotyping and Preclinical Research Course

new strategies to treat both civilian and military trauma

novel high-resolution technologies to accurately map and diagnose atrial fibrillation in human patients

the invention of Smart Ablation, a safer way to cure cardiac arrhythmias

the study of arrhythmogenic inheritable cardiac diseases associated with intracellular calcium dysfunction
Co-location at NCRC supports the innovative approaches that allow the CVRC to shed light on the molecular mechanisms underlying the development and progression of cardiovascular diseases. By examining the interplay between aging and inflammation on cardiovascular health; investigating genetic and molecular mechanisms of inheritable cardiac diseases; and safely, effectively, and efficiently testing potential new drugs, CVRC is making great advances in the prevention and treatment of cardiovascular diseases.
For more information on CVRC, go to umcvc.org/research.