The unique combination of expertise, service mission, and supportive environment at the VA Center for Clinical Management Research (CCMR) allows their investigators to conduct research in cutting-edge health services and implementation. This collaborative, interdisciplinary work advances both science and practical solutions for the common–and costly–clinical management challenges facing our nation's Veterans.
CCMR is currently conducting research in three focus areas:
optimizing healthcare decisions while staying patient-centered;

improving safe clinical care, especially for the most vulnerable, complex, and costly patients;

improving patient outcomes with lower resource expenditures by engaging patients and their caregivers in self-management.
Optimizing healthcare decisions based on individual patient characteristics and preferences
Ensuring patients do not receive risky and costly treatment when they are at low risk for a disease, and identifying patients who have the most to gain from screenings and treatment
CCMR and U-M investigators in the Center for Bioethics and Social Sciences in Medicine (CBSSM) have demonstrated the feasibility of using a machine-learning risk prediction model to identify patients at high and low risk for chronic hepatitis C (CHC). Such a model could be of tremendous benefit to VHA, given the large amount of resources currently devoted to pharmaceuticals for the treatment of CHC in Veteran patients. This past year CCMR received a four-year, $1.1 million grant from VHA to develop such a model for VHA patients, and to engage Veterans in determining how to implement risk-based treatment.
Another collaboration between CCMR and CBSSM investigators has produced a web-based decision support tool for helping clinicians determine if a patient should get a screening colonoscopy, based on personalized risk and benefit estimates. This tool is being used as part of a VHA-funded study to promote patient-centered colorectal cancer screening among older Veterans with comorbid illness. CCMR investigators have also been working with the Center for Health Communications Research (CHCR) to develop, implement, and evaluate a web-based decision support tool to help VHA clinicians discuss the risks and benefits of lung cancer screening, based on a patient's individual risk of developing lung cancer.
Improving safe clinical care
Systems-based solutions for our most vulnerable, complex, and costly patients, including hospitalized patients and patients with significant mental health or substance use disorders
One of the major challenges of treating hospitalized patients is enhancing their safety by promoting appropriate use of urinary catheters. CCMR investigators are part of the VA/U-M Patient Safety Enhancement Program, which received funding from the Agency for Healthcare Research and Quality to reduce catheter-associated urinary tract infections (CAUTI) in US hospitals. A study of the program, published this past year in the New England Journal of Medicine, showed that it is possible to reduce catheter use and UTIs, thereby reducing both suffering and costs. These results were achieved through a concerted effort in 926 units in 603 hospitals in 30 states, which provided training and tools for doctors and nurses, as well as feedback reports on performance. By the end of the 18-month program, UTI rates among hospital patients in general wards had dropped by one-third. Catheter use had also decreased. During the same time period, hospital-acquired UTI rates rose nationwide.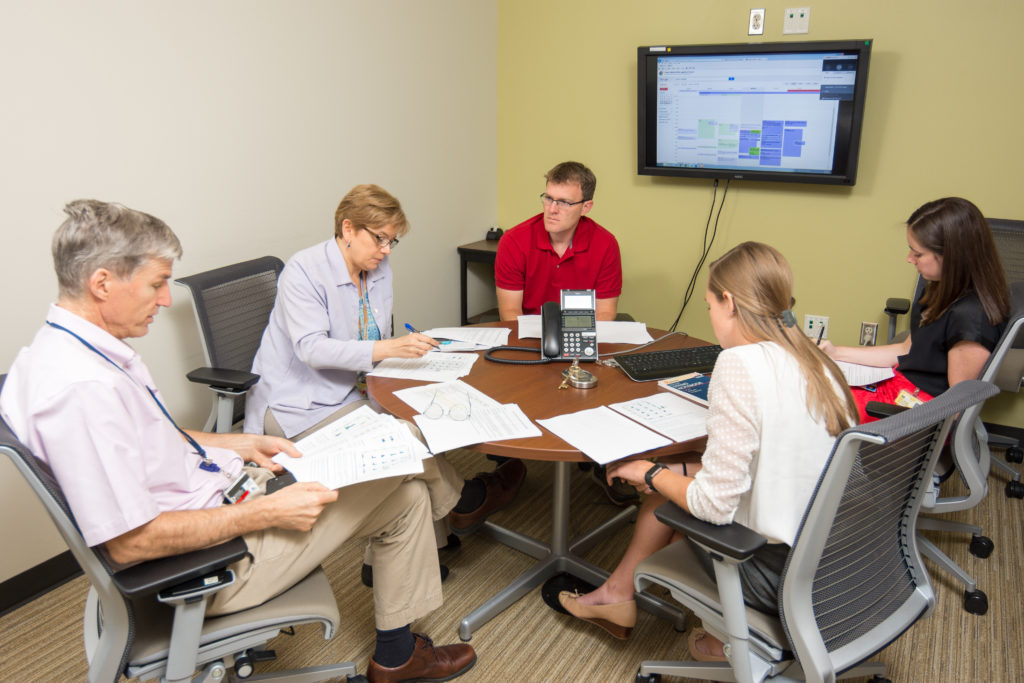 CCMR research on improving the care of patients with mental health or substance use disorders includes efforts to address problems associated with opioid prescribing, especially non-medical use and overdose. One new study will evaluate the use of mobile technology to assess non-medical opioid use and pain level, and to deliver motivational messages. The goal of the project is to decrease inappropriate opioid use following a visit to the emergency department where opioids were prescribed for pain management. This study is funded by the Substance Abuse and Mental Health Services Administration (SAMHSA), and involves the collaborative effort of CCMR investigators and researchers from the U-M Injury Center, Center for Engineering and Patient Safety, and Department of Psychiatry.
Engaging patients and their caregivers
Supporting self-management and improving patient outcomes through technology
CCMR investigators participating in the QUICCC (Quality Improvement for Complex Chronic Conditions) partnership with U-M are conducting research on the use of interactive voice response (IVR) to collect data and provide feedback to patients and their caregivers, to encourage self-management of their chronic conditions. One of these projects is providing automated feedback to non-household family members or friends willing to act as "CarePartners" supporting patients in their self-management. Another is using artificial intelligence to personally tailor a plan, based on patient data provided via IVR, to help patients with chronic pain manage their symptoms.
Another partnership with the Center for Health Communications Research focuses on optimizing patient-centered prostate cancer survivorship care through the use of personalized, automated telephone monitoring and self-management support calls, paired with tailored print material. The goal of this intervention is to help patients manage the sequelae of their prostate cancer treatment, including urinary and bowel incontinence, erectile dysfunction, and hormone imbalance.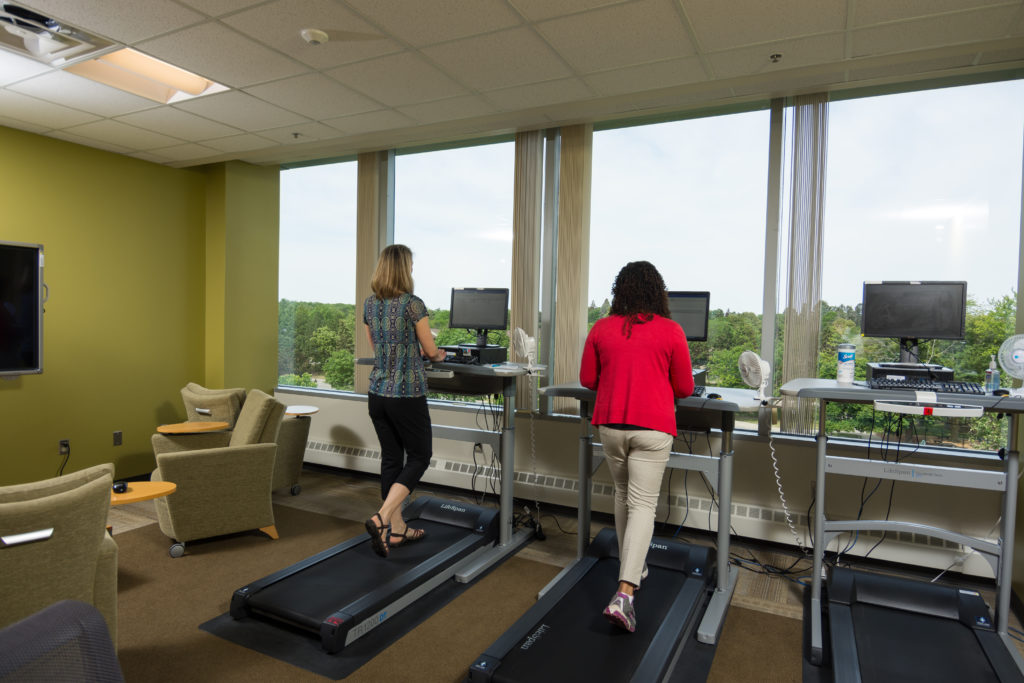 All of the above research is taking place in the collaborative environment of IHPI, which enables CCMR research teams to work closely with U-M partners. CCMR investigators praise the benefits of the NCRC environment, saying:
"Now I can rapidly integrate colleagues from multiple specialties, and bring in folks from around the University to solve Veterans' problems."

"I meet regularly for educational or research purposes with groups in the Clinical Scholars Program and the Division of General Medicine, as well as CCMR.  Having them all within the same building dramatically increases my efficiency." 

"It's been a tremendous boon for connecting with other researchers here at IHPI…I am part of a translation center that may not have happened so smoothly without being here at NCRC. We are the envy of many other research groups–researchers who visit here love it and wish they had the same."

"It is wonderful having all of health services research co-located. It helps foster informal conversation and attendance at other conferences such as CHOP (Center for Healthcare Outcomes and Policy)'s Friday session, the IHPI medicine sub-specialty group, Mi-CHAMP (Michigan Integrated Center for Health Analytics and Medical Prediction), etc. With no commute to these conferences, I can attend more and spend more time doing research and interacting with other health services researchers."

"I think it's benefited mentees outside of CCMR by having access to the CCMR PIE (Partnerships in Implementation and Evaluation) Lab; many of these folks are able to come to our monthly meetings. I think it's fostered a stronger opportunity to network and develop links to implementation research programs and projects."

"The intellectual environment within IHPI has contributed to developing new research ideas, not only for our faculty, but also for our trainees in mental health and substance abuse. Our move to NCRC has stimulated multiple collaborations that would not have occurred had we not made the move to this interdisciplinary research environment."
CCMR consists of 35 core investigators, both MDs and PhDs. These investigators work for VHA the majority of their time (at least 5/8), but also have U-M appointments in a number of different U-M divisions and departments, including:
General Medicine

Pulmonary and Critical Care Medicine

Gastroenterology

Urology

Plastic Surgery

Psychiatry

Learning Health Sciences

Health Management and Policy

Health Behavior and Health Education.
The Center also includes over 100 support staff, who provide administrative, data management, data analysis, project management, and research assistant support