Using Collaboration to Accelerate Evidence for Maximum Impact
The Institute for Healthcare Policy and Innovation (IHPI) brings great minds together at the NCRC to address healthcare's biggest challenges. At stake is nothing less than the future of healthcare–its effectiveness, accessibility, value, affordability, quality and safety.
The University of Michigan has been a leader in health services research for decades. Now, as our nation and our state tackle healthcare reform, it's more important than ever to create novel solutions that will improve the nation's healthcare system. Over 400 IHPI investigators from U-M's top-ranked schools of medicine, nursing, public health, engineering, social work, law, business, and public policy, among others, as well as members of affiliated local research groups, are collaborating to generate the evidence-based research policymakers need to make meaningful change.
IHPI members aren't just thinking about healthcare policy – they are working to improve conditions "on the ground." Central to their mission is making a difference in communities, focusing especially on addressing disparities in healthcare access and quality in metropolitan Detroit and other Michigan communities.
IHPI is tackling the big issues in healthcare by focusing on four important questions:
How can we make the most of each dollar spent on healthcare?
What impact will recent reforms, like the Affordable Care Act (Obamacare) and the Healthy Michigan Plan to expand Medicaid, have on our potential to revolutionize healthcare?
What should be done to improve the health of vulnerable citizens in at-risk communities, such as Detroit?
From new technologies to best practices, what tools can we deploy to make healthcare safer and more effective?
Patient "prehabilitation" improves outcomes before surgery
Research conducted by U-M surgeons shows that among patients scheduled for major surgery, those who make even modest positive lifestyle changes prior to their procedure show impressive gains in how well they bounce back. A pre-surgery "boot camp" for patients is already in place within the U-M Health System to provide education, guidance and motivation for patients to quit smoking, lose weight, become more active, and reduce stress before major surgery.
Recently, thanks in part to additional statistical and data analysis support from a quality collaborative housed within IHPI, those U-M surgeons earned a $6.4 million grant to expand the program's scale, rolling it out to about 12,500 patients in 40 hospitals statewide as the Michigan Surgical and Health Optimization Program (MSHOP). The team is led by Michael Englesbe, MD, an associate professor in the Department of Surgery, and co-principal investigators Darrell A. Campbell Jr., MD, UMHS Chief Medical Officer, and Stewart C. Wang, MD, PhD, a professor in the Department of Surgery, who pioneered a technique called analytic morphomics which is used in MSHOP's risk assessment tool. Evidence gathered will measure not only the clinical relevance of "prehabilitation," but its economic and social value as well. Read more about the program at www.uofmhealth.org/news.
Insurance reform: from NCRC to Capitol Hill  
The history of healthcare is marked by an interesting paradox. Despite countless innovations with proven clinical benefits, such as immunizations, cancer screenings and preventative care measures, evidence indicates that Americans consistently underutilize these high-value services. For over a decade, U-M health service researchers led by Mark Fendrick, MD, have been working to unravel this mystery, and have devised a novel, yet remarkably intuitive response to it: Value-Based Insurance Design, or V-BID.
Fendrick, a professor in the Department of Internal Medicine and Department of Health Management and Policy in the School of Public Health, directs the U-M Center for Value-Based Insurance Design, located within IHPI's NCRC space, which studies and promotes the V-BID approach. V-BID is an alternative to the traditional "one-size fits all" approach to insurance that requires the consumer to pay the same out of pocket cost for every diagnostic tool, procedure, or drug, regardless of its proven benefit.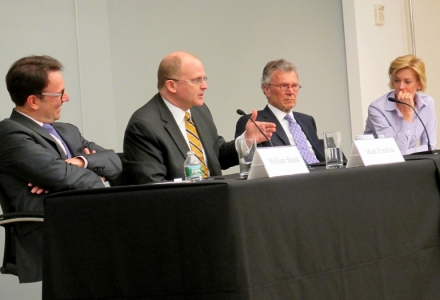 V-BID replaces the one-size-fits-all model with the concept of clinical nuance, which acknowledges that 1) not all services, procedures, tests and drugs are of equal value, and 2) the benefits of a specific clinical action vary based on who receives it, who performs it and where it takes place. In the V-BID model, patients face low or no cost barriers for high-value services (those with proven clinical benefit); for low-value services (those for which clinical evidence is weak and/or indicative of potential harm), the opposite is true.
Fendrick's team has an ever-growing body of compelling evidence that V-BID is a major improvement in health insurance, and it's no surprise that it is one of the few components of healthcare reform that has gained widespread and bipartisan support. In July, legislation was introduced on Capitol Hill paving the way for the Centers for Medicare and Medicaid to test the V-BID concept through the establishment of a regional demonstration program for high-quality Medicare Advantage plans to use V-BID in their insurance coverage.  Learn more at www.sph.umich.edu/vbidcenter/.
"Big Data" a big opportunity for IHPI-affiliated center
While Michigan has long been a leading source of health services research, IHPI members are finding new ways to do more with the data they gather and analyze. From day one, the visionaries behind IHPI recognized that harnessing the power of Big Data would be critical to advancing members' research objectives, and that to do so would require purposeful coordination across the many schools and research groups.
IHPI Invests in Big Data
To realize the transformative potential of Big Data at U-M, the IHPI Data & Methods Hub was launched to support members through infrastructure, staffing and resources. IHPI member Brahmajee Nallamothu, MD, MPH, an associate professor in the Department of Internal Medicine's Division of Cardiovascular Diseases, and an investigator in both the Center for Healthcare Outcomes and Policy (CHOP) and the Veterans Administration Center for Clinical Management Research (CCMR), recently signed on to serve as the hub's first leader.
In an $8.5 million federal research contract awarded this year to U-M, the University of Michigan Kidney Epidemiology and Cost Center (UM-KECC), an IHPI-affiliated program, has been selected to serve as the coordinating center for the United States Renal Data System (USRDS).
The USRDS is a national data system that collects, analyzes and distributes information about patients with chronic kidney disease and end-stage renal disease. As a coordinating center, the UM-KECC will collaborate with the National Institutes of Health and the Centers for Medicare and Medicaid Services to provide clinical, biostatistical, epidemiological, data management and analytical expertise to maintain and update the existing USRDS database.
The USRDS project includes a multidisciplinary team of 21 investigators in IHPI from the Medical School, the School of Public Health, the Frankel Cardiovascular Center, and the School of Pharmacy, as well as subcontractors from Arbor Research Collaborative for Health (an IHPI partner) and the University of California-Irvine. Learn more at www.uofmhealth.org/news.
IHPI by the Numbers
IHPI is a centerpiece of the NCRC portfolio, and expectations have been high from the start. So far, the institute is on a fast track to exceed those expectations.
It starts with asking the right questions, including those that are also vexing legislators struggling to craft better policies.  It also includes using data to track their own progress. As the following metrics illustrate, IHPI is making an ever greater contribution to helping the NCRC realize its vision of becoming "a world of fast-paced scientific discovery that ignites improvements to humanity's health and well-being."
Membership
The NCRC was created to make it easier to come together to solve complex problems. IHPI is taking full advantage of the opportunity, and their unique platform is already reaping benefits. Member faculty and young investigators tell us they're partnering with more people, from more diverse backgrounds than ever before, within the NCRC physical space, on campus, and across the nation.
Psychiatry at IHPI
IHPI is home to a cadre of investigators who make up the Mental Health Services Outcomes & Translation (MSHOT) and the Addiction Research Center (UMARC) sections of the U-M Department of Psychiatry. Directed by Frederic C. Blow, PhD, Professor of Psychiatry, these two groups conduct research and evaluations related to improving care for individuals with mental health and substance abuse concerns.
IHPI's member roster continues to grow as they take on the most pressing issues in healthcare with some of the most far-reaching and unique collaborations ever attempted in the field:
33 new members joined in 2013-2014, bringing IHPI's total membership to 438 as of September 2014.
Members bring the expertise of 12 U-M schools and colleges and 5 local partner organizations.
Footprint
IHPI currently occupies approximately 77,000 net square feet of usable space. With IHPI's allocated NCRC footprint near capacity, the Institute is looking for creative ways to configure space to make room for everyone looking to collaborate here. New collaboration spaces are near completion. These spaces, which will become available for use in 2015, will add 11,000 more square feet to the IHPI footprint.
Grant Funding
Is the IHPI model paying off? By one important metric, it certainly is. In fiscal year 2013, $82.6 million in external funding was expended for health services research led by IHPI members.
Publications
Another key measure of success for academics is being published in a prominent scholarly journal or cited in a well-known national publication. To measure success, IHPI leadership first developed a set of parameters to determine which publications to track, and then selected an elite subset of publications based on one of two criteria: 1) the publication is regarded as a major journal in the field, or 2) the publication has a two-year impact factor rating of 10 or more, such as the Journal of the American Medical Association or the New England Journal of Medicine.
Based on these criteria, IHPI is tracking member mentions in a list of 33 top publications.
In calendar year 2013, 141 IHPI members were published in these top journals.  This is an important benchmark for gauging the impact of IHPI members and initiatives, and the potential for influencing future policy decisions.
As IHPI Director John Ayanian, MD, MPP, Alice Hamilton Collegiate Professor of Medicine, notes, "It's been thrilling to see the camaraderie developing here, and the progress we've made in such a short time. Connections are being made between investigators who might not otherwise have even met. Existing projects are benefitting from additional support and momentum, and new initiatives are launching almost every day. The IHPI is off to a terrific start."
For more information visit www.ihpi.umich.edu.