Changing the Way Biomedical Technologies are Developed
At the Biointerfaces Institute (BI), founded at NCRC in January 2012, scientists redefine the frontiers of health sciences by fostering cross-disciplinary technological breakthroughs in nanotechnology, advanced materials, cell engineering, and microfluidics. BI is now home to 22 established research laboratories for collaborative research efforts between researchers from the Dental School, College of Engineering, Medical School, and College of Pharmacy.
BI collaborations have led to a multi-step procedure for the capture, purification, and expansion of rare circulating tumor cells (CTCs) for the development of individualized therapies. A microfluidic device is used for the capture and purification of the CTCs from individual patient samples, which are then grown on previously developed 2-D or 3-D surfaces by BI researchers. This collaboration allows the researchers to study the individual patient's cancer cells and develop a therapy that is customized for the patient.
Another long-standing BI collaboration is focused on the development of strategies for salvaging infected medical devices, by using combinations of low-level heating and antibiotic therapy to simultaneously kill the microorganisms that inhabit medical devices after implantation, and to mechanically degrade the matrices those microorganisms form. The strategy is one of only a handful of options that attempt to preserve infected devices without surgical removal.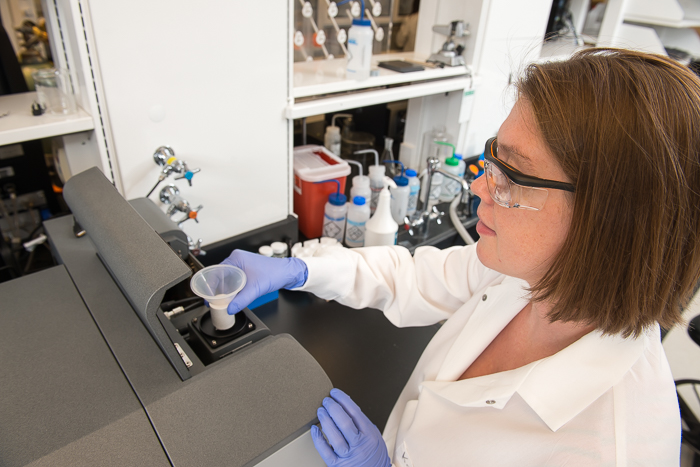 Other collaborative projects leading to creative and innovative advances in basic research and medical technologies include:
Dentists and biomedical engineers creating scaffolds for engineering regenerative bone tissue
Pharmacists and clinicians fabricating and testing nanoparticles for targeted cancer therapy
Clinicians and biomedical engineers creating a microfluidic device to better understand cancer cell movements within the body
Chemical engineers and clinicians working to prevent infection in intravenous medical devices.
Biointerfaces Institute Director Joerg Lahann, PhD, Professor of Chemical Engineering, Material Science and Engineering, Biomedical Engineering, and Macromolecular Science and Engineering, says, "What we're doing is changing a paradigm. We want to change the way [biomedical] technologies are developed."
BI has developed four shared Research Support Centers to provide access to research capabilities not previously available in a single research institute. Organized and arranged in shared spaces based on research purposes, these suites of instruments allow researchers to work on various analytical tools without transporting samples large distances.
The Nanotechnicum houses 11 analytic, characterization, and synthesis instruments, including a complete array of particle analysis equipment. Its purpose is to provide material synthesis and characterization capabilities to generate large numbers of samples for translational research purposes, as well as to characterize those samples and materials for pre-clinical studies.
The BI Visualization Laboratory provides visualization capabilities to help BI researchers characterize, model, and understand complex materials. The molecules and assemblies of these materials have intricate structures, requiring advanced experimental and simulation techniques which produce vast quantities of data. This lab will provide BI researchers with the ability to process data and visualize results interactively. The space is equipped with three high-end graphics workstations and a 10-foot tiled display wall.
The Optical Analysis and Imaging Laboratory is BI's state-of-the-art microscopy facility, with high resolution and multiplexed imaging capabilities. These instruments are used for studying the interactions between biological systems, and materials at both the nano- and micro-scale. Additionally, the Optical Imaging and Analysis Lab allows for high-throughput screening of nanomaterial systems at an in vitro level. This facility houses a confocal laser scanning microscope capable of both fluorescence and reflection confocal microscopy, a confocal laser Raman microscope, and a super-resolution optical microscope using structure illumination microscopy (SIM).
BI is currently setting up another shared research space for Single Cell Genomics work. Supported by a Fluidigm Corporation equipment grant, the Single Cell Genomics Lab will be a state-of-the-art facility to isolate single cells from any biological sample (blood, tissue homogenate, or cell population) for analysis. Additional instrumentation will provide capabilities to analyze the entire RNA sequenome from 96 individual cells in a single run, and provide proteomic analysis.
BI's research goals are accomplished through another, equally critical type of interface: daily, face-to-face interactions among researchers from diverse disciplines, which help investigators break through silos, spur collaborations, and drive innovation. According to BI member Sunitha Nagrath, Assistant Professor of Chemical Engineering and member of the Cancer Center and the Translational Oncology Program (TOP), "Co-location is a luxury! To be able to work side-by-side with medical clinicians, dentists, as well as engineers, and have open and far-reaching discussions about our research has really enhanced the way my group collaborates. It allows us to consider the impact of our research from diverse vantage points and expands our ability to solve biomedical research challenges exponentially."
Collaboration and co-location are important for all BI researchers. The formation of BIRG–the Biointerfaces Institute Research Group–established an alliance of BI post-docs and students dedicated to fostering collaboration among the different researchers within BI. Leveraging the co-location of BI's 22 medical, dental, engineering and pharmacy research groups at NCRC, BIRG members aim to facilitate interactions that enhance the flow of knowledge between disciplines, labs and individual investigators.
BIRG's kick-off event, Creating Entrepreneurial Opportunities, hosted Prof. Jim Price of the U-M's Zell-Lurie Institute for Entrepreneurial Studies, serial entrepreneur Prof. Nicholas Kotov, Nanotechnology Cluster Leader at BI, and Dr. Maggie McGammon of the Michigan Economic Development Corporation. The event brought together more than 130 researchers to advance ideas on how to think entrepreneurially while conducting research. BIRG is leading the way toward developing deeper and more frequent discussions of interdisciplinary solutions to critical problems in the BI community.
Interdisciplinary collaborations at BI help speed the translation of new research findings into practical applications. "We are pooling U-M's strengths in these different areas to focus on facilitating interactions between people who develop technologies—the 'toolbox' people—and people who have big research problems to solve," said Prof. Lahann. Already, BI collaborations with researchers in TOP have advanced research in stem cells and cancer drugs. "Facilitating those kinds of matches is what the Biointerfaces Institute is all about."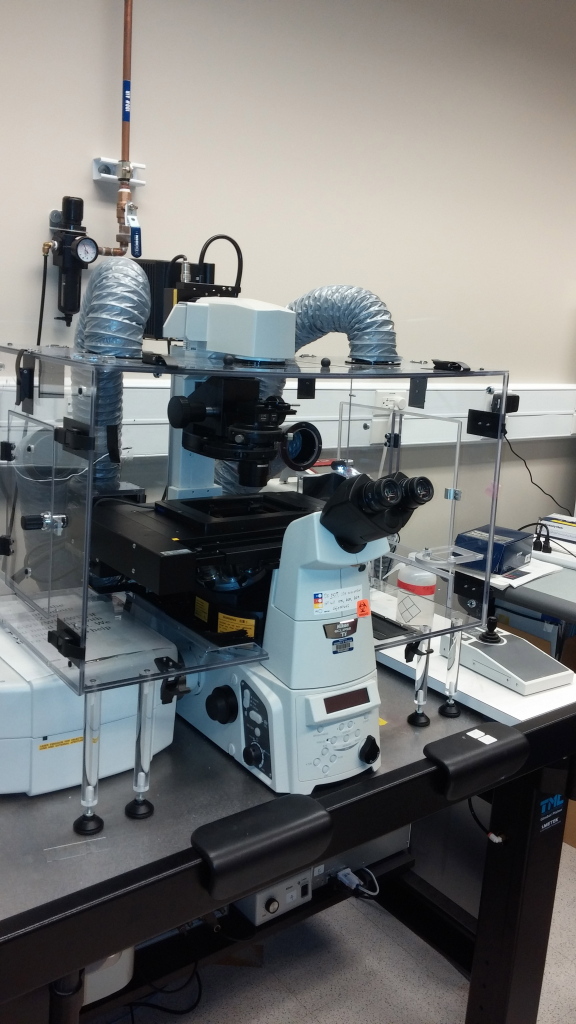 The Biointerfaces Institute runs interdisciplinary workshops, known as Challenges, to stimulate collaboration across academic fields. The Challenges bring together researchers from different disciplines to discuss particularly interesting and perplexing research topics. Participants include researchers from each of the BI's four schools and colleges–Engineering, Pharmacy, Medical and Dental–as well as a broad range of faculty from other departments. Industrial partners also often participate in the Challenges. At one recent Challenge, 10 local biotech firms participated in over- arching discussions on cancer cell detection and isolation and drug delivery mechanisms.
The BI Challenge on Nanomedicine had 60 faculty participants. Initial presentations focused on the complexities associated with using nanotechnology to overcome challenges in drug delivery, and the use of these new technologies to improve human health. The Challenge also provided an opportunity for the participants to delineate their most compelling nanomedicine research questions. Participants are encouraged to view Challenge topics from different angles to develop cutting-edge, collaborative research proposals. Ultimately, 26 of the Nanomedicine Challenge participants drafted nine proposals for the seed money competition. The two successful Nanomedicine Challenge proposals received a total of $140,000 to conduct research.
Researchers whose Challenge proposals are selected receive not only seed monies, but also laboratory space in the BI Integration Space. The Integration Space promotes collaboration and interaction between BI and non-BI researchers by hosting members of collaborating teams for extended periods to conduct work with BI research groups. Among other benefits, these experiences can advance the bench-to-bedtime timeline. Currently, researchers from four non-BI labs are using the Integration Space.
"NCRC gives us a home to build a research program where people from many different colleges can come together because they share the same research interests and philosophy," said Prof. Lahann. "We are thrilled about being part of NCRC, because we believe that it is the ideal environment for interdisciplinary and translational research at the University of Michigan."
For more information, visit www.biointerfaces.umich.edu.