Translational Oncology Program
The University of Michigan is already one of the leading institutions in the world in a number of areas of basic cancer research and drug discovery. Now, U-M has developed a translational oncology research engine at NCRC, giving investigators the unique opportunity to translate these important discoveries into clinical advancements that will significantly improve the way cancer is diagnosed and treated.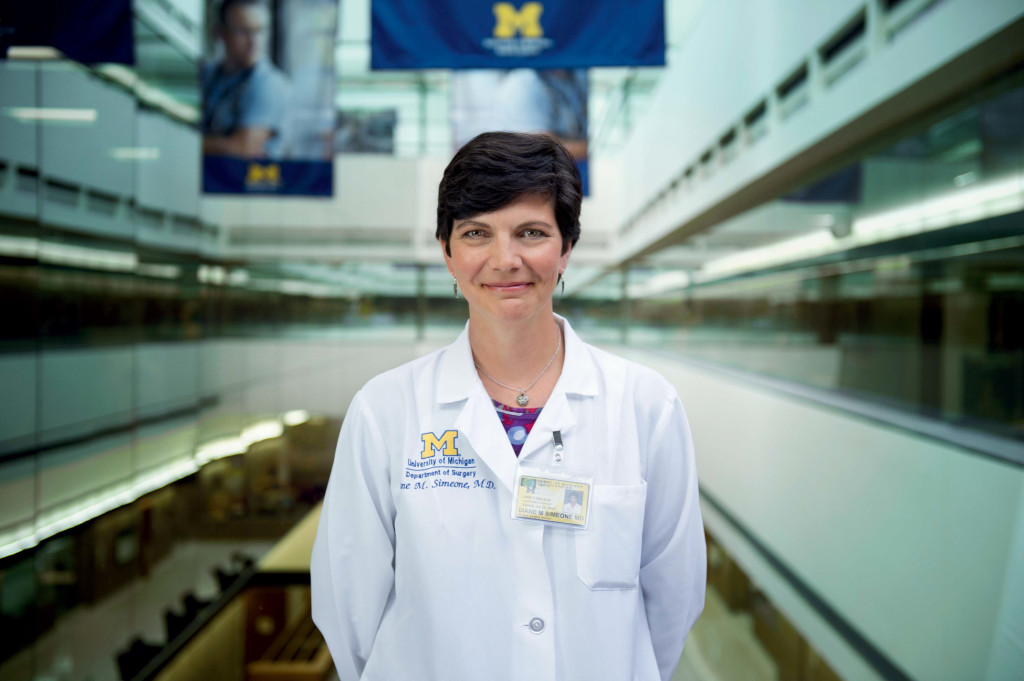 "The focus of the Translational Oncology Program at NCRC will be singular—how to treat cancer better," says Dr. Diane Simeone, Director of TOP. Dr. Simeone is the Lazar J. Greenfield Endowed Professor of Surgery and Professor of Molecular and Integrative Physiology, and director of the Multidisciplinary Pancreatic Tumor Program at the U-M Comprehensive Cancer Center. Dr. Simeone has been lauded by her colleagues as both a dedicated pancreatic surgeon and an internationally recognized biomedical researcher; she was selected as the TOP director in June of 2012, and she and her team moved to NCRC in early 2013.
Dr. Simeone leads a diverse program with a large number of research laboratories whose areas of expertise range from basic molecular and cellular biological processes, novel preclinical models of cancer, the identification of new drugs that target cellular processes unique to the cancer cell and the translation of these discoveries into the clinic.
[pullquote align="right"] "Identifying and understanding the molecular pathways at work in cancer, and targeting treatments to these pathways, represents the future of cancer care." -Dr. Max S. Wicha[/pullquote]Cancer remains the second leading cause of death in the United States. In this year alone, roughly 1.5 million Americans will be diagnosed with cancer. Half of these new cases are in people under the age of 65 and still in the prime of their lives.
While remarkable advancements have been made in basic research to characterize and understand the molecular underpinnings that drive cancer and in uncovering potential novel targeted therapies, there is still much more work ahead.
"We will adopt a comprehensive approach—on one hand researching the disease from different angles by drawing on the vast and world class expertise of our basic scientists, clinicians and experimental therapeutics researchers, and on the other, focusing on drug development and commercialization processes in order to reach patients faster. I am tremendously excited to develop this vision at NCRC," says Dr. Simeone.
Dr. Max S. Wicha, MD, says, "The Translational Oncology Program represents a major hub for cancer research and a tremendous opportunity to facilitate new discoveries for patients. Identifying and understanding the molecular pathways at work in cancer, and targeting treatments to these pathways, represents the future of cancer care. Through the Translational Oncology Program we will lead the way in discovering tomorrow's cancer treatments."
The U-M Comprehensive Cancer Center, founded by Dr. Wicha in 1988, facilitates collaborative cancer research throughout the University, and is currently ranked third nationally in peer-reviewed grants support from the National Cancer Institute. In May 2012, NCRC welcomed Dr. Wicha's Experimental Breast Cancer Research Laboratories and 40 of his researchers as part of TOP.
TOP investigators are presently exploring a wide variety of cancers that affect adults and children, seeking to develop new approaches to therapy that have the potential to impact on the greatest breadth of cancers and numbers of patients. Particular areas of current research focus include breast, pancreas, bladder, lymphomas, neuroblastomas, and sarcomas.
In contrast, spectacular advancements have been made in basic research to characterize and understand the fundamental molecular underpinnings that drive cancer. These laboratory discoveries have the potential to completely transform our approach to cancer, but only when the basic molecular knowledge can be 'translated' into practical treatments.
Targeted therapy is now the dominant approach in cancer therapeutics, driving the majority of new cancer drugs being developed in both academic and commercial biotechnology.  The development of targeted therapies requires the collaboration of team of specialized investigators to:
Identify and characterize new molecular targets in a variety of cancers.
Validate these targets in human samples and in experimental models.
Develop new drugs to inhibit these targets.
Test new drugs in preclinical models.
Initiate clinical trials to evaluate new therapies.
Develop new, more effective early detection strategies for cancer
The molecular analysis of tumors has revealed significant variation in the pathways that drive tumor growth and metastasis. The discovery of genes linked directly to cancer and the molecular pathways these genes influence has allowed scientists to draw a more accurate road map of the nuances of cancer and its progression. Today's drug development efforts use this map to focus on targeted therapies that tackle cancer specific events with greater precision.
By working together and leveraging NCRC's extensive scientific resources, TOP scientists can make progress much more rapidly than would be possible by working alone. It is hoped their collaborative approach will revolutionize cancer treatments by targeting and destroying the cells responsible for disease recurrence and metastasis.