Occupancy, People, Jobs and Events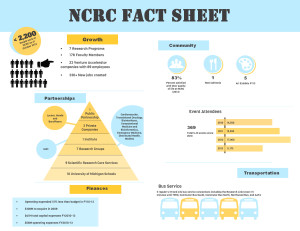 Key Facts
A look at some key facts about NCRC provides a picture of vibrant growth. With over 2,200 people working on the site as of September 2013, a significant number to note is the number of new jobs created. Since the first groups that moved here in March 2009, over 330+ new jobs have been created at NCRC. About 89 individuals now work in the 23 start-up companies in the Venture Accelerator.
Research growth at NCRC has been significant. With seven well-established, interdisciplinary research programs and eight scientific core services, 178 faculty members and several other researchers, doctoral and post-doctoral students and technicians, the promise of cutting edge research is becoming a reality. NCRC is now home to the nationally significant Institute for Healthcare Policy and Innovation. Partnerships with private industry have been established and are growing, with three private companies on site and 23 companies in the Venture Accelerator.
NCRC is now a thriving community with a large number of events taking place on its site, attracting thousands of attendees in the last few years. Dining options have grown, exercise classes are offered regularly and an exciting art program brings cutting-edge art at the intersection of science and art to this campus. With regular and frequent bus connections with the rest of U-M campus, the newest addition to North Campus is now well integrated and connected to the University of Michigan.
Click any graph for a larger, interactive version of the data.

[spoiler title="Number of People Working at NCRC" open="0″ style="1″]The growth in occupancy or the number of people that work at NCRC has grown rapidly since the first move-ins in March 2009. The actual occupancy numbers have more than kept pace with the estimated numbers.[/spoiler]
[spoiler title="Growth of Occupied Space at NCRC by Organization" open="0″ style="1″]This chart shows the growth in occupied space at NCRC over time, broken into four main categories of U-M Medical School, U-M, public private partnerships and U-M Hospital. The medical school has seen the highest rate of growth. [/spoiler]
[spacer size="20″]
 [spacer size="20″]
[spoiler title="Occupied Space at NCRC by Major Organization Type" open="0″ style="1″]This chart shows the growth in occupied space at NCRC over time, broken into major organizational categories.The Medical School NRI space has seen the highest rate of growth. [/spoiler]
[spoiler title="Allocation of Occupied Space- Distribution Detail by Organization" open="0″ style="1″]This chart provides a more detailed look at the distribution of occupied space between various units. U-M Medical School is the largest space user. The combined U-M category is broken into its component units in this view.  [/spoiler]
 [spacer size="20″]
 [spacer size="20″]
[spoiler title="NCRC Occupancy Details by Vice President Group" open="0″ style="1″]This chart shows the growth in occupancy at NCRC, broken down by U-M VP groups. As can be expected, given the nature of the scientific space, the executive VP for medical affairs has the largest representation.[/spoiler]
[spoiler title="NCRC Occupancy Details
Role Distribution as of June 2013
Provost Positions" open="0″ style="1″]This chart shows the distribution of U-M Provost roles at NCRC[/spoiler]
 [spacer size="20″]
 [spacer size="20″]
[spoiler title="NCRC Occupancy Details
Role Distribution as of June 2013
Vice President of Research Positions" open="0″ style="1″]This chart shows the distribution of U-M Vice President of Research roles at NCRC[/spoiler]
[spoiler title="NCRC Occupancy Details
Role Distribution as of June 2013
Executive Vice President for Medical Affairs Positions" open="0″ style="1″]This chart shows the distribution of Executive Vice President for Medical Affairs roles at NCRC[/spoiler]